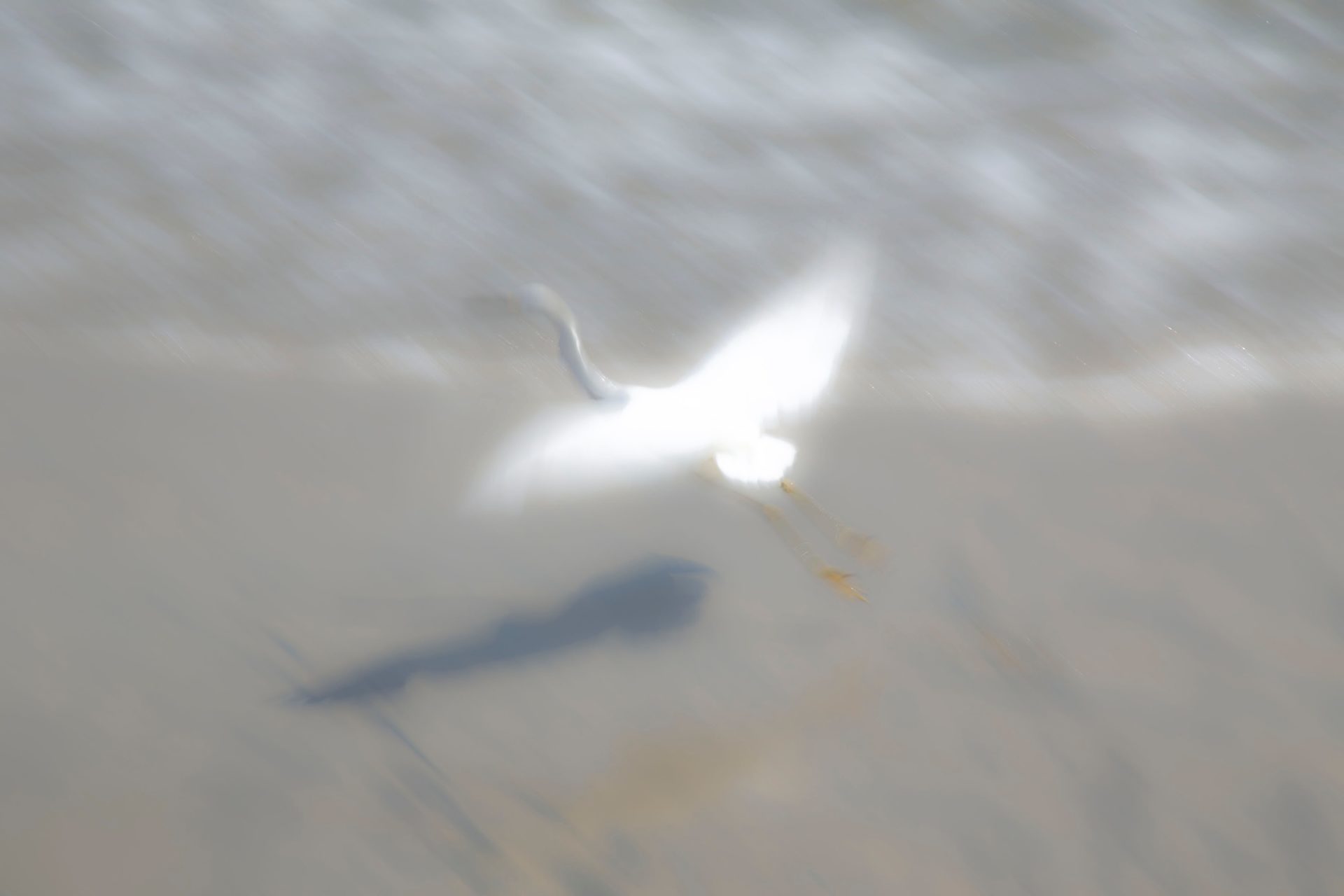 Write a review of Luiz Todeschi's work.
Send to: [email protected]

by Agora Gallery: Brazilian artist, Luiz Todeschi's photographs are a celebration of light and movement. A lover of nature, Todeschi spends a great deal of time outdoors, searching for inspiration from the environment. His artistic style is marked by his sensitivity to the play of light and energy of color. Todeschi's artistic perspective is influenced by his study of indigenous practices and wisdom that promote a deep respect for nature and honor relationships with all living things. Acutely moved by the plight of the indigenous people in his country, Todeschi considers it his mission as an artist to spread the message of peace through his photography. In "White Egret", Todeschi captures the moment of an egret taking off for flight. With its soft focus, and high contrast between light and shadow, the piece is elegant and gestural. Todeschi's intimate treatment of the egret reveals the artist's deep reverence and emotional connection to his subject. The image has a very painterly quality to it, with large swaths of light and shadow that appear reminiscent of brush strokes. The simplicity and sweeping movement of "White Egret" evokes an overall feeling of both tranquility and grace.. "
Agora Gallery Eleni Cocordas – Agora Gallery Executive Director Mrs. Eleni Cocordas (in memorian), died on May 1, 2020, due to complications resulting from COVID-19.
Artetra Art Associates Italy - About Art Paris 2019 Picasso Prize: "The artist offered us na exciting photographic journey in search of that espiritual energy tha was given usb y the Gods to the trees of Time. Between the Earth and the water of a primordial Brazil, with his "imortal shots" the artist has stolen as Prometheus what remains the sacred fire."
British Journal of Photography
"The photos show us a brilliant light, the sky and silhouetted scenes in natural environments. I think it is clear in your photos that you captured some of this magic and the amazing qualities of light's ability to create contrast! I think that by the way you composed your images you certainly create a poetic experience for the viewer. It appears that you are working on making these artistic photos in a unique and interesting way. Your images speak about the wonder of the sun as a metaphor for the source of all that is spiritual. " The full review on the Let it Be Light series of the British Journal of Photography: click here: British Journal of Photography

Mentors Mon Brézil
"Let there be light! "Honor the presence of light and images through your lens highlighting the importance of the same for photography is one of the artist's missions. The photo itself represents this exaltation of sunlight that is of paramount importance to life in all its expression on the terrestrial plane. Personal Brand of the photographer, the backlight of the photo clearly demonstrates this vision its ineffable presence, its omnipotence, and the consciousness that this energy is at all times transforming the humanity. "
Curators Coletivo Meu Brasil: Anna Priscilla Marques e Ricardo Esteves (Mentorship from Luiz Todeschi)

Walking through the light - Dr. Oscar D'Ambrosio

Light is of fundamental importance for anyone who walks the path of photography. Born in Curitiba in 1977, Luiz Todeschi researches in his visual journey several ways to deal with this resource, always in a perspective where new possibilities are sought. It is a process in eternal transformation, for light is an energy in motion, as is the journey of the visual artist. There is a mixed exercise of contemplation with action that constitutes a permanent enigma. On the one hand, there is the development of the aptitude of knowing to see; on the other, the practice of knowing how to build. A constant dilemma accompanying photography rightly lies in the way one decides to articulate these issues in order to arrive at the images themselves. There is a whole process of selecting what you see and choosing how you want to represent it. These processes derive from the intuition of the artist and also from his experience. Luiz Todeschi navigates these questions with competence. In dealing with color tones, abstractions and geometrized compositions, there are aspects that reveal a close look at what is around him and what can be erected by different strategies that can lead to the most diverse results, more or less realistic according to the case, but always marked by sensitivity on a journey through the paths of light. Oscar D'Ambrosio - Oscar D'Ambrosio holds a PhD in Education, Art and History of Culture and a Master's Degree in Visual Arts from the Institute of Arts of UNESP - State University of São Paulo / Brazil. Graduated in Journalism from the ECA-USP, (1986), graduated from the Faculty of Arts and Education at the Mackenzie Presbyterian University, (1986), specialization in Dramatic Literature from ECA-USP, (1989) UNESP, (2004) and doctorate in the Program of Education, Art and History of Culture of Universidade Presbiteriana Mackenzie, (2013).]

LensCulture Emerging Talent Awards – Critical Review!
About: Violet Flame, 2019.

" You have some very strong work in your submission. I've enjoyed viewing your artwork as it is quite varied in approach. Some of your images are rather representational, or others are a bit more esoteric and lyrical in approach. Images three and two are perhaps your most successful submissions. In image three, I'm very much drawn to the implied lines formed by the foot and the flowers which lead the eyes directly to the burning candle. In addition, the biblical depiction below of course references culture and ways of attempting to negotiate spirituality and eternity. This is a beautiful image. In image two, there is an engaging sense of symmetrical balance introduced by the dark shapes that occupy the left and right sides of the frame, and these shapes are variously echoed as well. I also applaud the rather subtle degree of color contrast afforded by the warmer hues near the middle of the picture with the cooler hues of the margins. Image four offers a great deal of promise, and I particularly enjoy the backlit effect and the gradient of hues in the middle branches. That being said, the central subject placement entails that the left and right sides of the framer are void of emphasis. Consider a different approach to composition, or more simply, perhaps a vertical orientation. These are your most engaging pictures. Image one offers promise, but I find the inclusion of the shadow elements at right and bottom left to be distracting. Perhaps you intend this as a sort of framing device, but this is not clear given the information provided in the picture, the image title nor the caption. Image five is perhaps your least successful picture. You already have one image which is far more successful in depicting lens flare via photographing directly into the sun. In addition, the right side of the frame is relatively inactive and this results in compositional imbalance. I applaud your project statement, but I suggest you reconsider your words. It is often difficult to pair rather lyrical and ambiguous imagery with similarly lyrical language. I suggest you be as concrete and specific as possible. What do you hope viewers might glean from your work, for example? I also suggest you be as specific as possible as you employ many general statements. As a matter of fact, in the project statement you refer to the reconnection of "everything," and the caption for image three references also a wide-ranging "everything." Be wary of trying to assign too large of a scope to your project. Be more specific and focused when possible. That being said, I applaud in your statement that you reference a personal trip to Luz, if I understand correctly. But what exactly is the connection to this event and the larger arc of your pictures? Usually, the more information that is provided to viewers, the greater the chance that they will arrive at a more fully realized appreciation of your vision. Your overall vision is interesting, particularly as embodied in images two and three. I suggest you refine your statement and consider a bit more continuity in style and aesthetics across the images. Thank you for submitting your work to LensCulture."


Artour International Magazine
"Brazilian photographer Luiz Todeschi left behind a career in the administration business to devote himself full-time to photography. Since that time, his masterful work has earned him worldwide acclaim. His photographs were exhibited in Brazil, the United States, France, Italy, among other countries.
He received several honors, including: Certificate of Honor to the Artistic Merit Artetra Artists Associados Italy during the Art Paris event; APAVE Brazilian Nature Portraits Contest (2013, 2014, 2015 and 2017); photo Turning Moment of Street Fotography Team Romania in Eastern Europe 2015; Certificates of Excellence - 31st Artavita 2019 online art contest in San Diego, California, USA, among others.
Through it all, Todeschi remained true to the guiding philosophies of his passion. Among them the idea that "The magic of photography is precisely that I believe that what we are recording is something that was presented just for us. When we become instruments of photography and art, we feel with a preconceived heart and cultural and social values. This combination of ineffable uniqueness and sense of collectivity permeates his newest work. The lighting piercing in "Violet Flame Earth Element", for example, emphasizes the uniqueness of each leaf - indeed each leaflet - that understands you. However, this does not diminish the aggregate plant, but accentuates the complex of interactions between the part and the whole. This theme links this work to other recent photographs, such as the dynamic "Kanaro" with its parrot blending in perfectly with its environment, even as it takes center stage, as well as "Red River" with its vivid mix of solid, liquid and gas . In this sense, in these works they become a microcosm of ourselves and our planet.
This unique blend is not an accident, but a deliberate exploration. As Todeschi says,
"I am a true seeker of self-knowledge, constant learning, expanding awareness and serving others. We can do much better. My desire really is to see the people of our country and our planet, as well as Mother Nature, being treated with respect."
These principles, in addition to the exultant works that derive from them, give voice to its claim to be one of the most important voices for our planet and for its unfathomable depths of the aspiration of the individual to the collective.
To learn more about Luiz Todeschi and his works, visit https://www.lgtfotografia.com.br/. You can also visit their virtual online representatives, including Plogix Gallery, Artavita, View Bug and the Foundation of Arts. " Viviana Puelo CEO ATIM